Full Service Web Design Agency
Join the #WebMovement!
3 Different Options for your Website Needs
Whether you want to create your own, have us design & develop, or just host your site, we got you covered.
The Science Behind the Website.
The foundation starting with the website NEEDS to be sound, before you spend money on ads. Today, it takes more than a beautiful website design to be effective online. Our objective is to not only guide you, but provide you with the tools to get your website working for you. Our team of marketing experts will put together a comprehensive marketing strategy best fit for your business. We call this the web movement.
Tools to Help You Grow.
WebMVMT makes managing your marketing solutions easier by providing a single dashboard where you can access all of your digital products.
Manage all aspects of your marketing.
Business owners with multiple locations see a list of all their accounts upon login
Give multiple users access to the same account with different permissions
Monitor your analytics
Manage users and settings from one admin area.
WebMVMT provides a full set of reporting and account management tools to provision, edit and delete accounts—all under your control.
Log-in and view accounts
Customize and modify user settings
View complete billing reports
The Web Movement – Success Pillars
LISTING MANAGEMENT
Google and Yelp are two listings sources that you don't want to have bad data on. Let us make sure your business is found on the most important places online! With your assistance, our team of digital agents will manually claim your listings on these two sources, and ensure essential information, such as your phone number and hours of operation, are 100% correct.
REPUTATION MANAGEMENT
As a business owner, you need to manage the online reputation of your business. Every day, customers are talking about businesses online, whether they're on Yelp, Zomato, TripAdvisor, Google+, Facebook, personal blogs, or elsewhere. And since 85% of consumers find local business info online, business owners like you need a way to see what customers are saying and to manage your reputation. This is where we can help!
SOCIAL MEDIA MANAGEMENT
Weekly, our Digital Agency will generate and post engaging content for your Google+, Facebook, Twitter and LinkedIn. Having regular social posting is critical to building a social media audience. When creating social posts, we keep a balance of marketing posts — such as specials, or products and services you offer — with interesting content found online.
WEBSITE MANAGEMENT
Landing page, 1-pager, 10-pager, blog, or complete e-commerce website: our team can build and design websites for your business. You just need to provide required information to our design team, and we deliver websites made to help local businesses grow. Ask about our monthly maintenance plans for unlimited changes to current design.
Let's Work Together
Have a vision or thoughts on a napkin? We can help bring your ideas to life.
Our Most Advanced Website Builder Yet.
Building a website has never been so fun.
Versatile Layout Options
Choose from hundreds of customizable designs, tailored to what you do.
Fully Customizable Navigation
Add a Logo with One-Click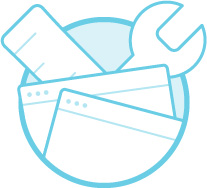 Builder/Editor Tool
Make updates to your site and manage your content with our website builder.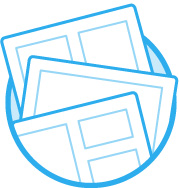 Pre-Made Layouts
Choose from our many pre-made layouts, we do all the heavy lifting.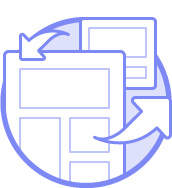 Content Migration
Let us pull your content from an existing site at no inconvenience or charge to you. Unlimited Pages
Build as many pages you need.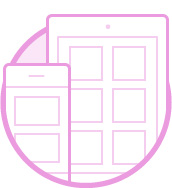 Full Responsive
All of our layouts and themes are mobile friendly and will scale to any screen size.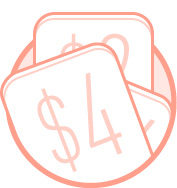 Ecommerce
Have products to sell? We can help create, manage, and sell.
Look No Further. Get Started Today
A clear plan for a new project or just an idea on a napkin?